Tank Master supplies a huge range filter cartridges.
PL Series – Pleated Sediment Filter Cartridges
The Puretec Pleated sediment cartridges are used where large surface area filtration is required, in high dirt holding capacity applications. The PL Series are used for sediment, scale and rust removal and have the advantage of low pressure drops and less flow restriction than comparable cartridges.
PX Series – Polyspun Sediment Cartridges / Graded Depth
The PX Series are compatible with most liquids and are highly effective for sediment, rust, sand, silt, algae removal. PX cartridges have no chemical residues.
The economical Puretec PX Series cartridges are constructed from virgin polypropylene which is spun and melted simultaneously. This innovative technique means there is no centre core to restrict filter performance. Precise depth filtration is achieved through graded density construction.
RB – Ribbed Sediment Cartridges
Puretec RB Series cartridges uses grooves to increase surface area for greater dirt-holding capacity. These cartridges reduces dirt, rust, algae and organic matter.

RET Series – Membranes Residential / Commercial Elements
The Puretec RET Series are efficient membranes that produces high-quality product water. Our membranes are fully resistant to chemical and pH swings, ensuring maximum productivity. This membrane element contains a preservative solution to prevent microbiological growth and freezing.
WD Series – Wound Sediment Cartridges
The Puretec Wound Sediment cartridges are designed for economical sediment filtration. Depth filtration is achieved through precisely wound construction.
WD cartridges reduce sand, silt, rust and scale particles. The WD Series cartridges are suitable for a wide variety of sediment filtration applications including bore water as well as many industrial fluids.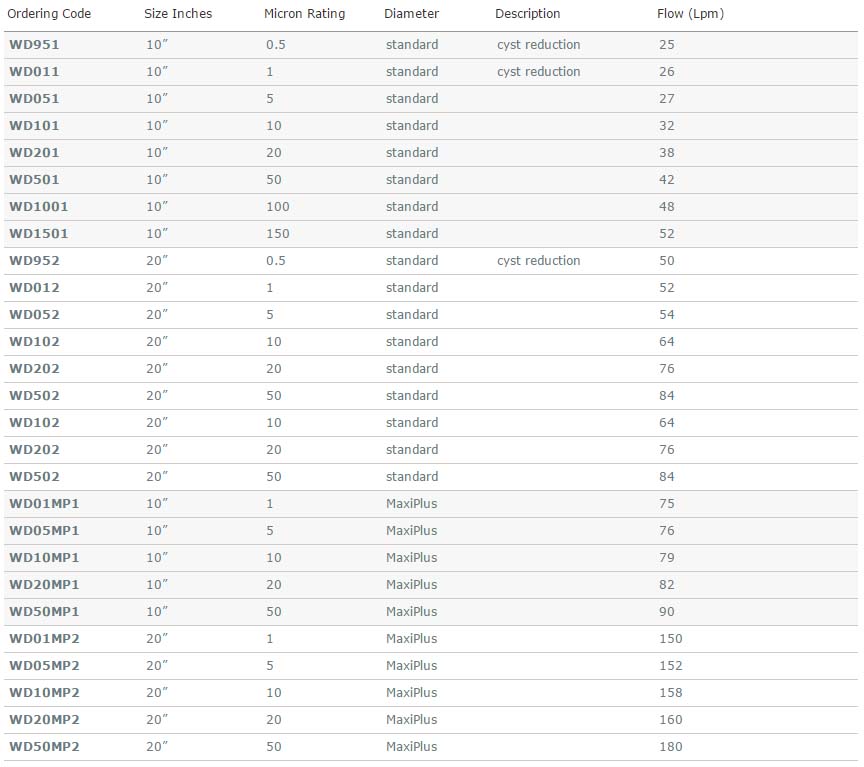 WD-H/G Series – Speciality Wound Sediment Cartridges
The Puretec WD-H Series are capable of withstanding temperatures of up to 300°F (149°C), and will accommodate high flow rates with minimal pressure drop.
These cartridges are suitable for a wide variety of sediment filtration applications. The Puretec WD-H Series are wound in a precise pattern around the core providing greater surface area. The results is higher dirt-holding capacity and greater efficiency than standard wound cartridges.